Mini Vanilla Bean Cheesecakes with Holiday Cranberry Topping
Yield: 14 mini cheesecakes
Cook: 5+ hours
Mini Vanilla Bean Cheesecakes with Holiday Cranberry Topping have a sweet, creamy filling with a contrasting crunchy crust. 
Thanksgiving recipe number 2! This time it's a dessert and was created for GoodLifeEats and My Baking Addiction's Holiday Recipe Swap. I am very excited to share this recipe with you because I think it is absolutely mouth-watering, I can't stop eating these little cheesecakes. Plus it's a perfect spin on Thanksgiving flavors in a small, cute, and portable package.
Come join the fun at the My Baking Addiction and GoodLife Eats Holiday Recipe Swap sponsored by Beanilla. Also, I'd really appreciate a vote from you! I'm number 17 in the swap.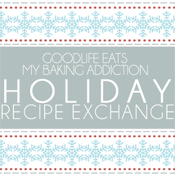 Recipe Rundown
Taste: Beautiful aroma of sweet vanilla, hint of orange, and tart touch of cranberry.
Texture: The crust is almost crunchy and grainy but buttery at the same time. The filling is rich and smooth while the topping is thick and chunky.
Ease: Not at all difficult but totally impressive.
Appearance: I love the contrast of neutral tan and cream crust and filling with the brilliant ruby-red topping. I also love the specks of vanilla beans in the cheesecake filling. Plus anything miniature is cute.
Pros: Much easier than regular sized cheesecake, topping can disguise any cracking or sinking, can be made way ahead of time, portable, easy to eat, DELICIOUS.
Cons: None.
Would I make this again? I will probably make the mini cheesecakes with a different topping for each season of the year.

Mini Vanilla Bean Cheesecakes with Holiday Cranberry Topping
Ingredients
Crust
3/4 cup graham cracker crumbs
1 1/2 tablespoon unsalted butter, melted and cooled
1 tablespoons sugar
1 teaspoon orange zest (optional)
Filling
1 pound (2x 8-oz packages) cream cheese, softened
1/2 cup sugar
Pinch of salt
1 vanilla bean, split in half and seeds scraped
2 large eggs, at room temperature
Cranberry Topping
2 teaspoons cornstarch
1/4 cup freshly squeezed orange juice
1 16-oz can organic whole-berry cranberry sauce (or make your own)
Directions
Preheat the oven to 350 degrees F. Line 2 cupcake pans with 14 paper liners (or use 1 pan plus 2 standalone wrappers).

For the crust:

In a small bowl, combine the graham cracker crumbs, melted butter, and sugar. Stir together with a fork until well blended and all dry ingredients are moistened and look like wet sand. Press 1 tablespoon of the mixture into the bottom of each cupcake liner. Bake until just set, about 5 minutes. Transfer to a cooling rack. Reduce oven temperature to 300 degrees F.

For the filling:

In a medium bowl beat the cream cheese on medium-high speed with an electric mixer just until smooth. Beat in sugar until well incorporated. Mix in the salt and vanilla. Beat in the eggs one at a time, mixing well after each addition. Be careful not to over-mix.

Spoon 3 to 4 tablespoons of the cheesecake batter over the crust in each cupcake liner using an ice cream scoop or two spoons.

Bake until the filling is just set, about 20 to 25 minutes. Transfer to a wire cooling rack and let cool to room temperature. Transfer to the refrigerator and let chill for at least 4 hours before topping and serving (preferably overnight). (Make these for Thanksgiving up to 4 days ahead of time – store in airtight containers and dollop cranberry sauce on the day of serving).

For the topping:

In a small saucepan whisk together the cornstarch and orange juice to combine, making sure there are no large clumps. Pour in cranberry sauce, stir, and bring mixture to a boil over medium to medium-high heat for one minute. Cool for 10 minutes before topping a dollop on each cheesecake. Can be made up to a week ahead of time. Store in fridge and bring to room temperature before dolloping on cheesecakes. Leftovers for Thanksgiving or on sandwiches, crackers, muffins, pork chops, chicken, the options are endless.
Recipe Notes
If you make this recipe, be sure to snap a picture and share it on
Instagram
with #handletheheat so we can all see!
© Handle the Heat - handletheheat.com
Join the Handle the Heat Community


---
Do you want a more delicious life?
Instead of digging through cookbooks and magazines and searching the internet for amazing recipes, subscribe to Handle the Heat to receive new recipe posts delivered straight to your email inbox. You'll get all the latest recipes, videos, kitchen tips and tricks AND my *free* Cookie Customization Guide (because I am the Cookie Queen)!